An artist doesnt require colour or a canvas to create a piece, its his mind and imagination which results in a master piece.
Thinking keeps one brain active.Rather its a best practise.Some may say day dreaming will never take a form,but who cares if it gives a meaning and focus to your life.And when you have the right thinking, you are on the way to discover your own realm .A reflection of your own but in a materialist form.So never restrict your imagination,coz you never know when it can result into a master piece.
A teenage thinks to be rockstar,youth loves to experiment,a man wants the power and a lady searches for true love.you might say its different but they are thinking.Thinking to get what they want ,what they desire.It leads to a action where they try to implement their thinking in positive or negative way.But the same action keeps the life flowing.From one point to another.From one origin to another destination and from one thinking to another.
Powered by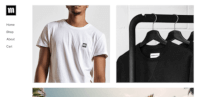 Create your own unique website with customizable templates.